Did you know that Buckeye Lake was the first large reservoir built in America and became Ohio's first State Park in May of 1949? The 3,000 + acre lake was built near the highest point of elevation separating the Scioto and Muskingum River watersheds, it was built solely to provide water for the canal system.
Perhaps you took a ride on the largest wooden frame roller coaster that took thrill seekers out over the water or rode riders such as "The Dip" or "The Wild Mouse." Thousands from all over the state flocked to the Buckeye Lake Amusement Park to visit one of the largest amusement attractions in Central Ohio.



This Site Last Updated
23-Jul-03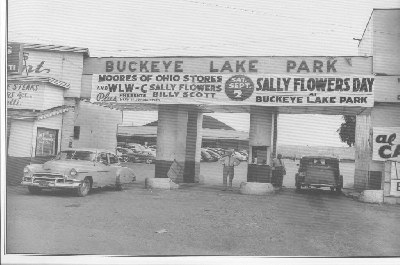 Perhaps you fondly remember the Big Band Era? If so, you probably were among the many visitors to the Crystal Pavilion and the Lake Breeze Pier Ballroom featuring the big band sounds of Harry James, Tommy Dorsey, Benny Goodman, Stan Kenton, Lawrence Welk or Louie Armstrong. The cost of admission tickets in the late 30's and early 40's was a whopping 66 cents!